The day after Christmas means one thing and one thing only round these parts: we must go walking up mountains with a variety of dogs and relatives.
Traditionally, any of the family related to us by blood on my mother's side that are presently residing or even just temporarily located in Dublin take a dander up the Dublin mountains, to vainly try to remove some tiny portion of the mountain of chocolate, cream, whiskey, turkey etc consumed the day before.
This year, we were seriously lacking in relatives with which to walk, but we rustled up a couple of cousins and one cousin-in-law, and the twins saw fit to drag along an honorary relative in the shape of their friend Paul. We donated to the cause two jack russells, although the cousins didn't contribute in terms of dogs. After a mere half an hour of being stuck halfway up a mountain in a ridiculous traffic jam, gridlocked in by a man who refused to back up 2 inches in order to let a stream of cars pass (Paul had great delight in screaming out the window what an "AAAAASSSHOOLE!" this man was, right into the man's curmudgeonly bearded face), we met the cousins and started the walk.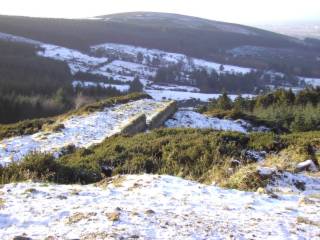 As you can see, it was glorious. Snow all around and views to die for. Bobby thoroughly enjoyed himself, running to and fro, trying to choke himself on the lead and managing to trip up family and strangers alike. I quickly had to hand him over to the care of Little Sister Edel initially, and later to Honorary Relative Paul, because it occurred to me that he could probably lead me screaming to my death. The walk, you'll see, while being very beautiful, was also incredibly treacherous. Ice. Ice everywhere. Ice compacted by a million other Dubliners walking off the meat sweats from the day before's overindulgence.
This is the group shot I took. You can just make out Bobby and Kesh standing beside each other on the left. The rest of the group, Left to Right, are: Little Sister Edel, Little Sister Louise, Cousin-In-Law Stephen, Cousin Clare, Cousin Wendy, Honorary Relative Paul, Me With Camera.